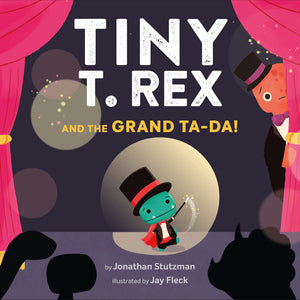 Kids love dinosaurs—and dinosaur books! Tiny T. Rex is a dinosaur kids especially love because he's a tiny dinosaur in a big world—just like them. 

Tiny and his friend Pointy really want to win their school's talent show. And they think they know just how to do it: They will become great magicians, just like their hero, The Amazing Presto. Together they work hard on their act, including the grandest trick of all: to make something disappear. But it isn't easy to become magicians, and just when they've mastered their skills, they face the even greater challenge of performing in front of an audience!
 
With their trademark humor and warmth, beloved duo Tiny and Pointy prove that every problem can be overcome as long as it's met with patience and understanding.  
Hardcover
For Age 3 +