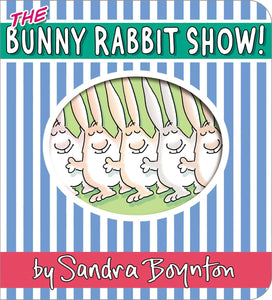 In this board book by Sandra Boynton, celebrate with a cast of high-kicking bunnies that perform in perfect unison to a lively song and dance all about, well, themselves!


They're very good at hopping, and not so good at stopping! You've got front-row seats to the cutest revue in town—hop on down to The Bunny Rabbit Show! Bunnies are very welcoming, so everyone (Boynton's pigs, sheep, chickens, and YOU) can come join the chorus line—bunny ears mandatory, of course.

We are ten terrific rabbits
and we like to dance and sing.
Ten terrific rabbits.
We can do most anything.
For Age 1 +