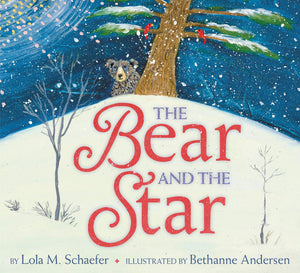 In this universal celebration of community and love, Bear gathers his friends from near and far to mark the changing of the season.
On a cold winter morning, Bear welcomes a new star to the sky and searches for the perfect tree—a majestic evergreen—under which to host a celebration for everyone to enjoy. Almost as if by magic, guests start to arrive. They are feathered, furry, scaled—on the wing, on four paws, on two feet. They are young and old. They bring gifts. They bring love. They bring hope for peace.
The Bear and the Star is a stunning picture book from acclaimed author Lola M. Schaefer and award-winning artist Bethanne Andersen. With a focus on understanding, empathy, community, and hope, it's the ideal choice for family sharing during the holiday season and throughout the year.
Hardcover
For Age 3 +