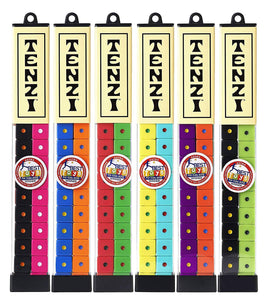 TENZI is the world's fastest dice game! Fast, fun, and engaging, TENZI is perfect for table top beginners and aficionados alike. Every player gets 10 dice. The object of the game is to roll the dice as fast as possible, the player who gets all dice on the same number and yells "TENZI!" is the winner. While the basic game of TENZI is approachable and easy to learn. Simple yet engaging, TENZI is a fantastic game for 2 to 4 players of almost all ages.

Package includes (1) TENZI Game. Measures 1.5 x 1.6 x 10 inches.
Recommended for ages 7 years and up
Please note – dice color may vary and each game sold separately. Product contains small pieces and is not suitable for children under 3 years of age.