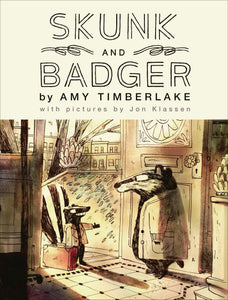 Wallace and Gromit meets Winnie-the-Pooh in a fresh take on a classic odd-couple friendship, from Newbery Honor author Amy Timberlake with full-color and black-and-white illustrations throughout by Caldecott Medalist Jon Klassen.
 
No one wants a skunk.
 
They are unwelcome on front stoops. They should not linger in Important Rock Rooms. Skunks should never, ever be allowed to move in. But Skunk is Badger's new roommate, and there is nothing Badger can do about it.
 
When Skunk plows into Badger's life, everything Badger knows is upended. Tails are flipped. The wrong animal is sprayed. And why-oh-why are there so many chickens?
 
"Nooooooooooooooooooooo!"
 
Newbery Honor author Amy Timberlake spins the first tale in a series about two opposites who need to be friends.
Hardcover
For Age 8 +