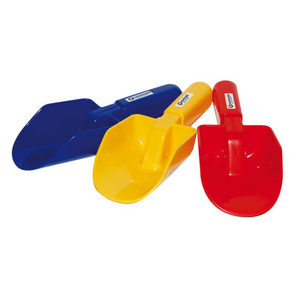 Perfect for little hands to load their sand into pails or mills. These scoops have large easy to grip handles that are built to last! Children will be able to dig for days without ever breaking these sturdy scoops.
Spielstabil products are made from food-grade ABS plastic and are PVC-free, Phthlate-free and BPA-Free.

Made in Germany.

This shovel measures approx 7 1/4"L x 2 3/4" W.
Assorted colors:  blue, red or yellow - each sold separately

Suitable for ages 18 months and up.