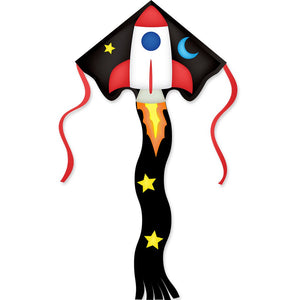 One of the easiest kites to fly, the Super Flier Kite features one-step assembly, a long banner tail and a wide wind range that will make almost any day a great reason to enjoy the fun of flying a kite. Constructed with a durable rip-stop polyester sail and resilient fiberglass frame, this kite is meticulously crafted with expert back-cut "stained glass" applique techniques as seen on much higher priced kites. Super easy to fly and a wide wind range make this kite perfect for beginners.
The kite come complete with 150' of 30# flying line and winder.
This kite is a great first-time flyer for children and families who want something simple, affordable and colorful in the sky. 
Wind Range: 5-18 mph