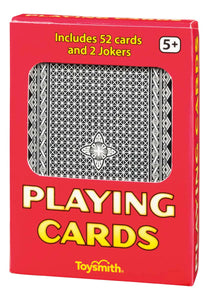 A classic game, the Playing Cards are a traditional standard deck with 52 suited playing cards, 2 jokers, and 2 ad cards. Suited cards include 1 set of red hearts, black spades, red diamonds, and black clubs.
Choose from cards with a red backing or blue backing. All 56 cards are neatly contained within a reusable tuck-top box. 
For Age 5 +
Not suitable for under 3 years.