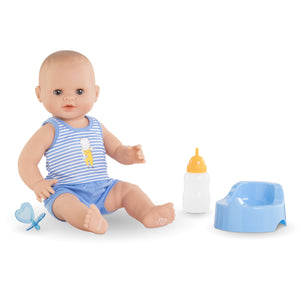 Paul Drink & Wet is your potty-training ally!  This large Corolle baby doll is anatomically correct. He:
- drinks his bottle
- goes potty "for real" (doesn't leak water everywhere in the house!)
- takes a bath
He is dressed in underwear and an undershirt.  Comes with bottle to be filled.  Vinyl body. Sits up by himself. Sleeping eyes.

14 inches
Ages 3 and up.