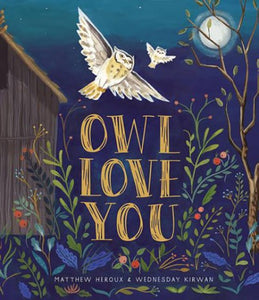 The sun is setting, time to rise! At dusk, when an owl's day is just beginning, a baby owl asks questions and a mama owl offers comforting answers in this gentle, reverse bedtime book, featuring lulling, lyrical text and luminous illustrations of the nighttime world.
PRAISE
"Heroux's simple rhymes are a good bet for beginning readers . . . Kirwan's painterly illustrations capture a lovely middle-of-the-night feeling with a deep, dark palette."?

—

 

Kirkus Reviews
ABOUT THE AUTHORS
Matthew Heroux and Wednesday Kirwan wrote Owl Love You together while walking their dog, Nemo. Wednesday is a children's book author and the illustrator of Henry's Bright Idea and Magnolia's Magnificent Map, in the Walnut Animal Society series, written by Lauren Bradshaw. This is Matt's first book and their first book together as a married couple. They live in Oakland, California.