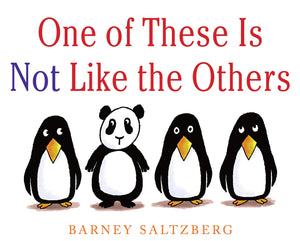 One of these is not like that other--and that's great! This gently subversive picture book points out-- and celebrates!-- the differences between subjects.

Barney Saltzberg's hilarious and delightfully direct text and simple illustrations introduce children to the concept and splendor of inclusiveness, through recognizing who or what's different on each spread and celebrating the unity as it is.

For example, the reader sees three cows and an elephant accompanied by the text "One of these is not like the other," turn the page... and all four animals take part in an exuberant conga line and say "that's just fine with us"!
Hardcover
For Age 2 - 5