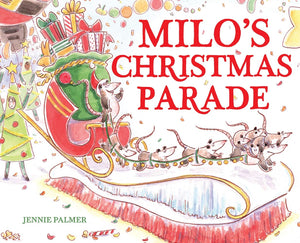 A new picture book from Jennie Palmer starring Milo, a little opossum with a big dream . . . to join the annual Christmas parade
 
Every year, Milo and his family watch the Christmas parade.  Well, Milo is the only one who's really watching. The other opossums are interested only in snacking on dropped bits of popcorn and peppermint sticks. But Milo is riveted by the colorful costumes, giant balloons, and fantastic parade floats trimmed with fringe.
It's his dream to one day join the Christmas parade. And this year, with a plan, hard work, and the unwavering support of his passel, Milo is determined to make his dream come true.
After months of drafting and building, Milo's float is ready to roll, but is the Christmas parade ready for Milo? From author-illustrator Jennie Palmer comes a celebration of Christmas, family, and learning to shine bright.
Hardcover
For Age 3 +