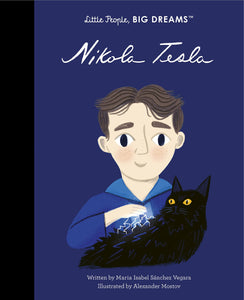 From the critically acclaimed, multimillion-copy best-selling Little People, BIG DREAMS series, discover the life of Nikola Tesla, the scientist and inventor whose groundbreaking inventions we continue to use today.
In the US, Tesla's inquisitive nature and ingenious mind spurred him on to keep exploring electricity, and he came up with several groundbreaking inventions during this time, including breakthroughs in alternating current and wireless remote controls. By the end of his life, the brilliant inventor had more than 300 patents for original and unique inventions, and had advanced scientific thought by a generation.

This inspiring book features stylish and quirky illustrations and extra facts at the back, including a biographical timeline with historical photos and a detailed profile of the iconic scientist's life.
Hardcover
For Age 4 - 7