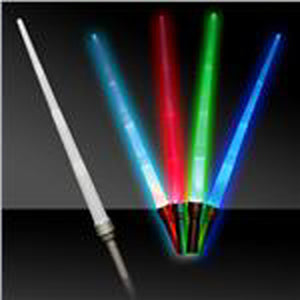 Arrive at your next duel with one of our Multi-Color Expandable LED Swords for kids and your opponent will be so wowed they'll surrender in surprise! These light-up expandable swords are the perfect party favors for Star Wars, medieval, or ninja-themed birthday parties and will also make any Halloween costume look amazing at night!
Each multi-color LED sword expands to 35 inches long and features bright LED lights that can be set to one of seven lighting functions with the click of a button.
Each Multi-Color LED Expandable Sword comes with 4 AG13 batteries included and installed.
Each sword sold separately.
For Age 3 +