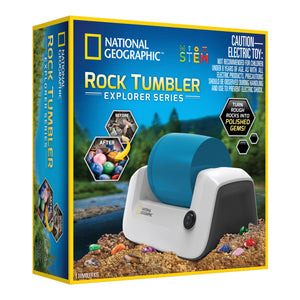 Rock tumbling is tons of fun and a great way to start a beautiful rock collection!
This Rock Tumbler includes all the accessories you'll need to start polishing dazzling gems.
Contents and Features:
 High-quality tumbling machine with powerful motor that will last for years
Upgraded Leak-Proof Tumbling Barrel

1/2 Pound Bag of Rough Gemstones

4 Bags of Polishing Grit

1 Rock Strainer 

5 Jewelry Settings

1 Learning Guide with Instructions 
Rock tumbling is a fun activity for children of all ages and promotes an interest in geology and science! Join National Geographic as we inspire future generations by showing them the wonders of the natural world.
For ages 8 and up.