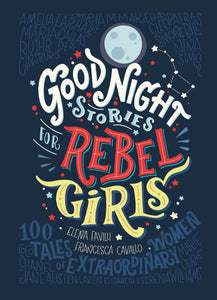 This book is packed with 100 bedtime stories about the life of 100 extraordinary women from the past and the present, illustrated by sixty female artists from all over the world.
This must-have volume brings readers on an empowering journey, introducing them to the real-life adventures of trailblazing women from Elizabeth I to Malala Yousafzai. The unique narrative style of Good Night Stories for Rebel Girls transforms each biography into a fairytale, filling readers with wonder and a burning curiosity to know more about each hero. Each woman's story is also accompanied by a full-page, full-color portrait that captures her rebel spirit.

This hardcover edition, with an extra-smooth matte scuff-free lamination, 100lbs paper, a satin ribbon bookmark, and extraordinary print quality, is the perfect gift for any young reader, and begs to be read again and again.
Hardcover
For Age 7 +