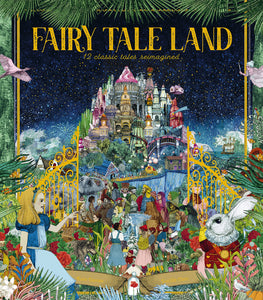 Fairy Tale Land

 

opens the gates to the magical land where all the fairy tale characters live. Get lost in this visually stunning, oversized gift book that features all the well-loved stories.

The tales are expertly retold, perfect for bedtime, and 

each story is followed with an exquisitely illustrated, detailed map of its neighborhood

. You can drop into Hansel and Gretel's cottage, explore the palace from Beauty and the Beast, and dive deep under the sea with the Little Mermaid. What wonderful things can you find in your favorites' homes?

The stories include:
The Little Mermaid
The Nutcracker
Cinderella
The Jungle Book
The Wizard of Oz
Hansel and Gretel
Robin Hood
Treasure Island
Beauty and the Beast
The Snow Queen
Alice in Wonderland
Snow White
The exquisite artwork and captivating text make this spellbinding anthology a gift to treasure for all generations.
Hardcover
For Age 7 +