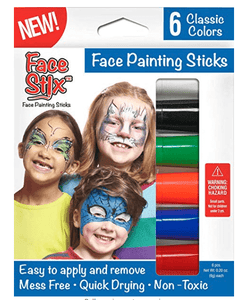 100% safe. Paints are non-toxic and safe for everyone to enjoy. They are suitable for even the most sensitive skin.
Easy on, easy off. Paint is as easy to remove as it is to put on. There is no need for harsh scrubbing or removers. Simply washes off with a little soap and water.
Double the paint! Each stick contains more than double the amount of paint as compared to our competitors
Quick drying! Paints dry quickly and will not smudge.
For Age 5 +