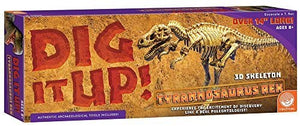 EXCAVATE: Using the tools included in this kit, chip, dig and brush away the plaster block until you discover all 17 skeleton pieces.
PREPARE: Once all pieces have been excavated rinse the pieces in water and follow the step by step instructions to assemble your dinosaur.
ASSEMBLE: The bones snap together and can be repeatedly reassembled.
DISPLAY: Once assembled, your skeleton will be an accurate model of a Tyrannosaurus Rex measuring 14.5 long 
INCLUDES: fossil block, hammer, flat chisel, point chisel, brush, sponge and instructions.
For Age 8 +