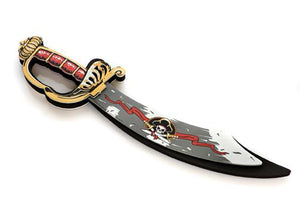 The Captain Cross Sabre is a pirate captain's most important tool. Whoever swings the sabre on a pirate ship has the command. This noble weapon stems from ancient treasure and has a hilt guard made of real gold as well as a grip lined with red velvet. Captain Cross' skull and crossbones motif adorns the polished steel blade which emphasizes that the Captain is in charge.
All Liontouch pretend-play items are made from EVA foam, ensuring play remains safe! EVA foam is very light, waterproof, insulating and shock absorbing.

Pretend-play builds social and emotional roles in life. And, exercising the imagination develops self-confidence, leading to better problem solving in the future.
Recommended for ages 3 years+.