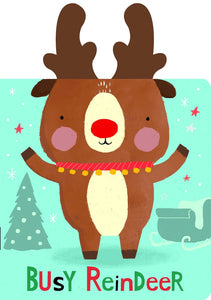 Gift little ones some Christmas magic with this unique reindeer board book with soft plush antlers and glittery cover!
There's holiday magic in the air and beautifully wrapped presents everywhere! Babies and toddlers can follow Busy Reindeer who is determined to deliver all the gifts on Christmas Eve before getting some well-earned rest!
Parents and caregivers will love how the Snuggles Series reinforces routines so children can feel prepared, safe, and comfortable as they encounter new challenges and experiences in their development. Adorable illustrations and gentle, easy-to-follow text show the simple steps of each routine, while the plush ears offer an interactive opportunity that can help increase word recognition and vocabulary, spur imagination, and increase tactile play.
For Age 1 +