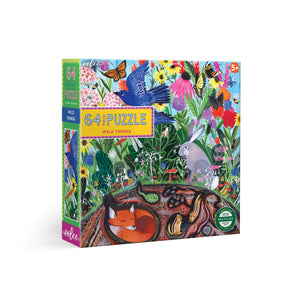 Wild Things 64-piece jigsaw puzzle is an overland, underland illustration featuring garden animals, feathered friends, flowers, and other organisms living in a wild, natural habitat. With large pieces this puzzle is perfect for children ages 5 and up.  A vibrant and striking illustration from, Diana Sudyka. This 15 x 15 inch square puzzle will be a great activity for the whole family to enjoy.  

Age: 5+
Piece Count: 64 glossy pieces that fit and snap together with ease.
Puzzle Size: 15 x 15 inches when finished.