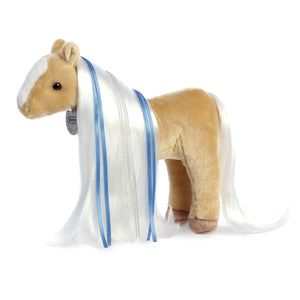 Introducing a little magic to Breyer with Mane Events! Susnset is a beautiful tan color with bright white mane and tail. This horse comes with a sky blue ribbon and a sparkly silver ribbon. Breyer horses are classic and realistic horses made by and for true equestrian lovers.
12 inches in size.
High quality materials make for a soft, fluffy touch.
Realistic and lovable design.
The perfect gift for horse lovers!
Suitable for ages 3+.