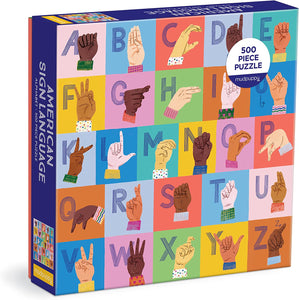 The American Sign Language Alphabet 500 Piece Family Puzzle is the perfect activity for families with children 8 years and older. You will have hours of fun assembling this beautifully illustrated puzzle.  This jigsaw puzzle from Mudpuppy features bright illustrations of the American Sign Language Alphabet, and will provide families hours of fun, quality entertainment.
- 500 pieces
- Great family activity for adults and children to enjoy together
- Complete puzzle: 20 x 20"

- Ages 8-99