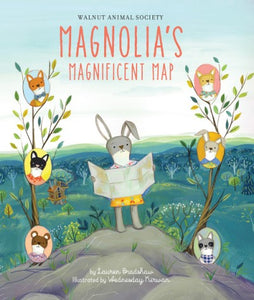 In this second book in the Walnut Animal Society series, following Henry's Bright Idea—Magnolia the Bunny explores the grove with her friends Margaux the Kitty and Chester the Raccoon, looking for that elusive, special place that will complete her map.
Deep in the shade of a walnut grove stands a tall tree house. A delightful group of friends gathers here. They call themselves the Walnut Animal Society. Their mission is to create and to always remain curious.
The Walnut Animal Society is busy preparing for a very special event. The Society Soirée comes just once a month, when the night is clear and the stars are bright. Tonight it is Magnolia the Bunny's turn to share. Everyone is excited. Everyone but Magnolia, that is. It has taken her months of exploring and sketching and picture-snapping to create her latest map—a map of the walnut grove. There's just one problem. Her map isn't finished. Magnolia's map is missing a spot. Will she finish it in time?
PRAISE
"Junior cartographers will be inspired to plot their own backyards and neighborhoods as they locate Ruthie's Butterfly Garden, Henry's Firefly Patch, and all of the delightfully drawn details of Magnolia's Magnificent Map, provided in full color."

—

 

Foreward Reviews
"A delightful and entertaining story by Lauren Bradshaw is beautifully illustrated by picture book artist Wednesday Kirwan. The result is a treasured and highly recommended addition to family, daycare center, preschool, elementary school, and community library picture book collections for children ages 4 to 8."
 

—

 

Midwest Book Review
ABOUT THE AUTHOR
Lauren Bradshaw is a designer of handmade dolls called Walnut Animal Society. Magnolia's Magnificent Map is the second title in the series of books inspired by the dolls. She lives in Nashville, Tennessee. Wednesday Kirwan is a children's book illustrator whose books include Henry's Bright Idea and the forthcoming Owl Love You, to be published by Cameron Kids. She lives in Oakland, California.