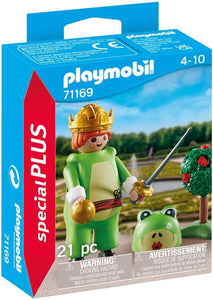 It's just always nice to read the fairy tale of the Frog Prince. A young prince who has been turned into a frog and is now waiting to be rescued. Use this PLAYMOBIL set to replay the fairy tale story around the enchanted prince or think up new stories. PLAYMOBIL Special Plus sets are a fun gift idea for creative children aged 4 and up.
Figure: 1 man; Accessories: 1 crown, 1 rapier, 1 rose tree
Recommended for ages 4 and up.